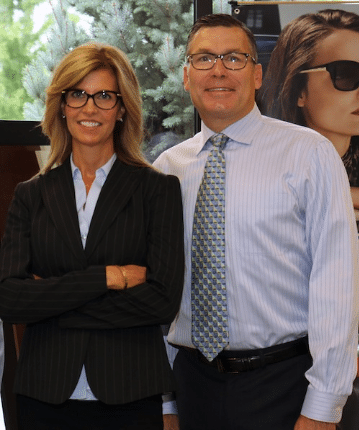 Kent Kunkel, O.D.
Dr. Kent Kunkel is originally from Granville, IL and now resides in Peru with his wife, Dr. Beth Kunkel. They have three children, Lauren, Jack and Alec. His academic career includes graduating from St. Bede Academy in 1983 and University of Illinois in 1987. He then went on to receive his doctorate at the Illinois College of Optometry in 1991. His passion at work is helping every patient see the best they can–utilizing the latest diagnostic technology and the newest contact and spectacle lens materials. His passion outside of the office is his family, golf and travel.
Beth Kunkel, O.D.
Dr. Beth Kunkel grew up in Arlington Heights, Illinois and attended the University of Iowa before going on to graduate school at the Illinois College of Optometry. She considers it a privilege to service the visual needs of her community and her mission to preserve the precious gift of sight.
Dr. Alex Uhlenhopp
Dr. Alex Uhlenhopp grew up in Clear Lake, IA and received his undergraduate degree from the University of Northern Iowa in Cedar Falls. He went on to attend Illinois College of Optometry in Chicago where he graduated summa cum laude in May of 2018 while earning his Doctor of Optometry. Dr Uhlenhopp has a passion for practicing full-scope optometry with a special interest in contact lenses, including bifocal contacts, as well as the diagnosis and management of ocular disease.
Outside of work, he enjoys spending time in the outdoors hunting and fishing, watching Minnesota Twins and Vikings games, and spending time with his family and friends.
Dr. Lauren Uhlenhopp
Dr. Lauren Uhlenhopp is from Peru originally. She attended St Bede Academy, followed by the University of Illinois at Champaign-Urbana. She finished her academic career at Illinois College of Optometry in Chicago where she graduated salutatorian of her class and met her husband, Dr. Alex.
She and Alex currently reside in Ottawa. She enjoys golfing and working on home renovations in her spare time. Lauren's passions include specialty contact lenses and myopia management. She also loves doing kindergarten exams!